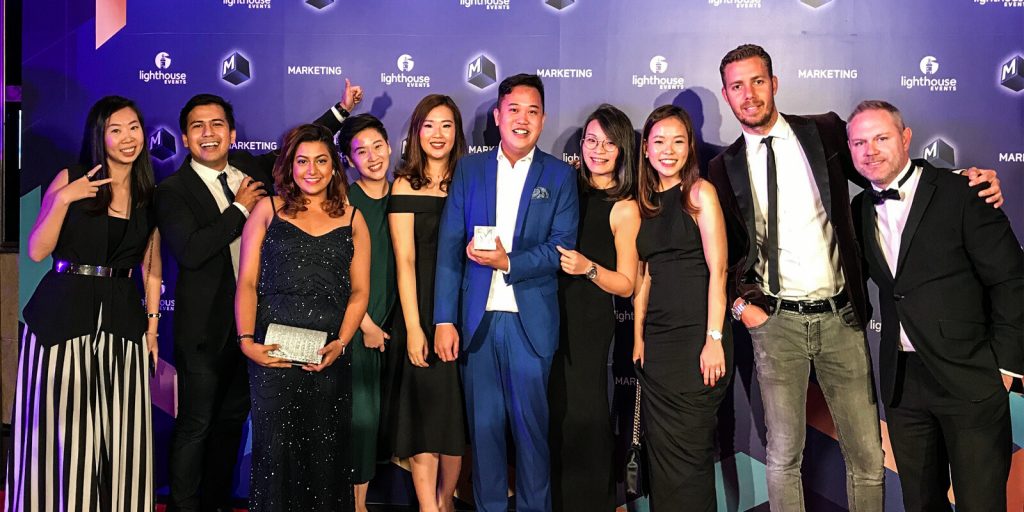 Since childhood, be it in academics or in sports, society has conditioned us to believe that winning is everything and that first place is best. But the fact of the matter is this: runner-ups are champions in the making.
Less than a year ago, we won bronze for Marketing Magazine's B2B Agency of the Year, Singapore 2017. Achieving this milestone gave us the motivation to push on and improve what we were currently doing. Then earlier in March, we surpassed agency giants with a gold award at Marketing Magazine's MARKies 2018 for Best Idea – Business Events, before winning silver for Marketing Magazine's B2B Agency of the Year, Singapore 2018.
The way I see it, starting out as the new kids on the B2B block when we opened our doors in Singapore four years ago made us humble and more determined to make continual improvements which compounded over time, enabling us to grasp the next bar that's in reach. Why? Because it keeps us hungry for more and fires the passion to do bigger and greater things.
Second leaves a target, first becomes a target
Both Christina Aguilera and Justin Timberlake didn't win Star Search. Ronda Rousey didn't win the 2008 Olympics in Beijing. These individuals may have missed the winning boat initially, yet today, they're making their mark as rock stars in their own fields. How? By being goal-oriented, and ensuring grit, passion and creativity in everything they do.
In the agency landscape, this means taking our time to hone our craft and develop a higher-quality body of work that wins over the hearts and minds of our clients and their customers. And to do just that, we've invested in creating an inclusive working environment and building a diversified team.
Energetically diversified, creatively charged
From events to public relations and even immigration, MOI Singapore is made up of a good mix of people from various working backgrounds, skills and cultural perspectives. To us, this was a critical move because through experience, we've seen how having a diversified team breaks up workplace homogeneity and entrenched ways of thinking.
And it's paid off: with a common goal, the team has created magic like, bringing in global and regional account wins that account for 20% of our annual revenue and 4 new logo wins last year. One of which was DXC Technology, whose event series, Catalyst, saw regional success and won us our first ever Gold at the MARKies 2018.
Our clients are NOT second best
At the end of the day, it's thanks to the belief our clients have in the MOI way that has allowed us to do head-turning work which pushes boundaries in B2B marketing. And it's also given us the opportunity to grow and become a B2B force to be reckoned with in APAC.
From joining us at our quarterly Disrupt events to attending our ABM workshops, their relentless support and trust in us is what is keeping us motivated to get that gold. With that, here are some snapshots of how we celebrated our well-deserved win. (below)
MOI Singapore might be young and we may have come in second, but the passion and hunger this team has is unrivalled. I'm extremely proud of what we've achieved together and can't wait to see where our next chapter leads us.
Gold Award for B2B Agency of the Year 2019? We're coming for you ?
To find out how our award-winning Singapore team can help you win gold, get in touch.