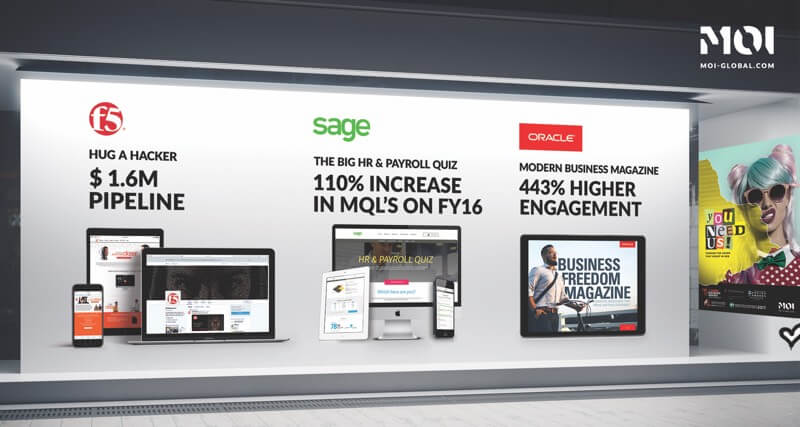 Matthew Stevens, Global MD, shares the impact MOI's evolving proposition has had on its international success.
It's been a record breaking year for MOI in terms of global agency growth and reputation. To see our established business in the UK going from strength to strength, and international offices expanding rapidly, means our ideas on modern marketing are resonating with technology clients.
A focus on empowering young blood, pioneering data-led experiences and a strong focus on growing our global creative network have all been key to producing campaigns that win kudos with our clients and industry recognition across the globe. In fact, with 5 wins at globally-recognised B2B awards, this was the year MOI announced itself as one of the industry's leading agencies.
We've received accolades for helping F5 uplift their lead conversion through modern campaign journeys, been a driving force behind Oracle's move into the mid-size space and built digital experiences for Sage that demonstrate significant increases in audience engagement. All of which have relied on outstanding creative ideas, aligned to today's buying behaviours.
Moving into 2018 and beyond, our clients are already benefiting from new service propositions across ABM, B2B Events and Digital Content & Media. And, to support growth in these areas, the agency will be further investing in enhancing the relevance of our creative through data and Martech.
As data continues to change the world we live in and the behaviours of our consumers, adoption of these emerging opportunities, whether it's AI, Social Data or 2.0 Analytics, will be critical to increasingly contextualising every message or experience we deliver. Combined with our creative pedigree, this will be our formula for turning heads both today and in to tomorrow.
Here's to a future of marketing to the individual, and goodbye to the collective.
Let us know your thoughts here or get in touch to chat.