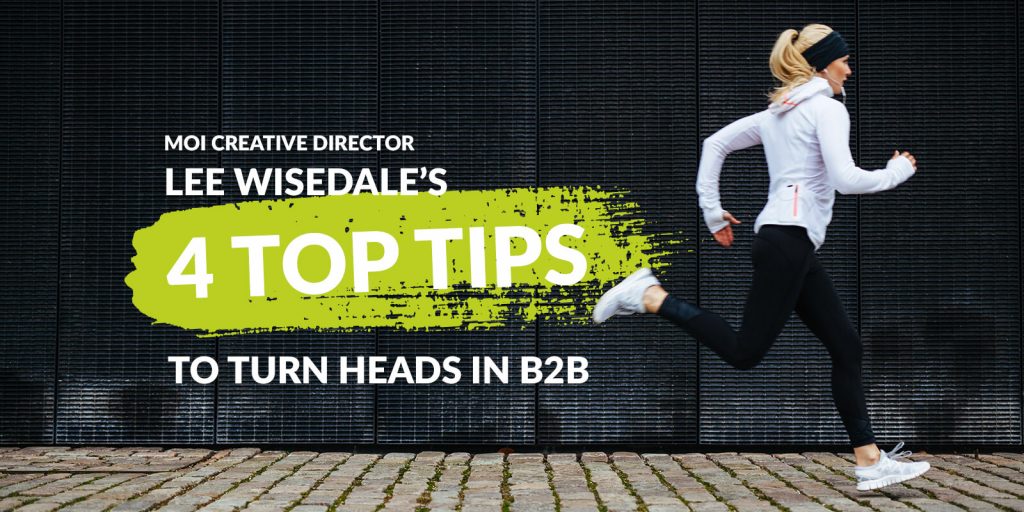 B2B audiences are used to boring, but MOI's MO is to give them more of what they want. We even include in our creative briefs a section dedicated to how a client can do something different, to put a twist on it. You need that little extra spark if you're to really stand out in B2B and turn the heads of those who count, because B2B's cool now.
Here's how MOI works with our clients to make magic happen – more smiles, more clicks, more laughter (yes, even in B2B), more engagement, and more money for clients.
1. Plan from the base up
Yeah, I know, you want to be reading about planning even less than I want to be writing about it, but it needs to be done. Plan from the base up or watch the whole structure fall down.
From masterplan to magic: We work closely with a client from the start of a campaign so everyone's clear on where we need to go. Whatever your choice of creative agency (hopefully us), make sure they're there from the beginning so you can guide each other. It's part of the beauty of working together – more people, more skills, more ideas, more creativity, more impact. So get to know us – we don't bite.
2. Make it more than pretty
So what if it looks pretty? My kid's pretty, but useless at selling cloud computing. Everything you make needs to be something the audience needs. Something they want. But it does still need to engage them visually too.
You can't be random either. Your audience won't know what's going on, and they'll think you don't know what's going on. Everything needs to fit, to make up a whole, to make sense, or they'll turn their heads away.
It takes an outsider: What does your audience want and need? When you're in love with your business's products or services it can be easy to misjudge what that actually is. That's when working with an agency can give you a much needed outside perspective and help with the insight needed to get a better idea of who your customer is.
3. Be brave
Don't make your audience laugh. Give them that deep, uncontrollable rumble of a belly laugh.
And don't use "B2B" as shorthand for mind-numbingly boring. B2B marketing isn't exactly known for its bravery, so you be brave. Be different. Turn heads.
You packed your chute, right?: If you work with a creative agency, let them actually be creative and let them take you on a journey into everything that's possible in B2B marketing. Don't settle for same old, same old through fear of the unknown. Throw yourself out of a plane in the knowledge your parachute was packed properly – if it's not a bit scary you're not being brave.
4. Get the clicks, get the high fives. Get the results
It's no longer good enough to sit back and marvel at your beautiful creations, think job done, and head off to the pub.
People will tweet about how stupid your ad campaign is. They'll blog their outrage at your misjudged, offensive video. They'll share your social posts, the ones that made them smile. They'll click through on the email where you give them genuinely useful advice.
Everything's measurable now, so measure. Watch the smiles, laughs and clicks, and act accordingly – see if your campaign actually works.
Off to the scrapheap?: There's a real magic that takes place when you combine creativity with data, so one way to keep up the momentum is to share your findings with your agency – what got your audience engaged, and what didn't? Then we can build on what works, and change or scrap what doesn't.
Work together and give them more of what they want
What really ties together everything that's good at MOI is collaboration. We can only turn heads in B2B by working closely with clients from the beginning, and using a non-siloed approach, where it's everyone's responsibility to be creative, from the creative studio to the client services team. Because, even in B2B, the creative should actually be creative, even if it doesn't come from a "creative".
Get in touch if you think you're brave enough. Let's turn heads. Together.