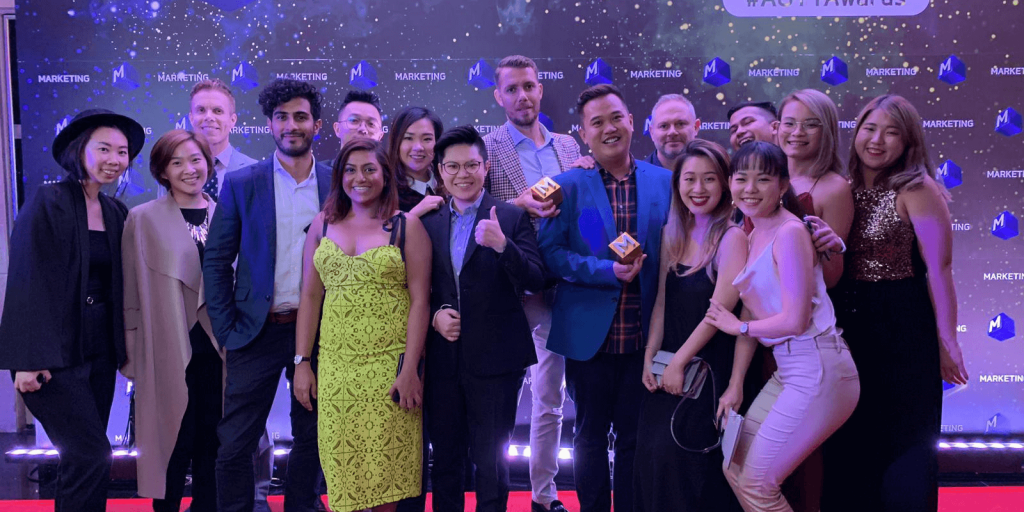 Double. Freaking. Golds. Marketing Magazine's Agency of the Year Awards 2019 saw team MOI Singapore bring home the gold for B2B Agency of the Year and Independent Agency of the Year.
I am still in disbelief, unbelievably proud and slightly emotional. For an agency that started out in a 2-seater serviced office a few years ago to working across 3 office spaces at one point this year (due to our rapid expansion), this is an unbelievable feat beyond our wildest dreams. I've seen the team grow from strength to strength, with our impressive (and expanding) client roster to prove it — and our domination's just beginning. How did we do it?
Cue the fireworks! 2018 was our biggest year yet.
We're always up for a challenge. We took up an integrated marketing agency pitch against the big boys in advertising for a 2-year retainer with legacy printer, Fuji Xerox Singapore – and won. As a specialist B2B agency that embodies the Turning Heads™ philosophy and is committed to keeping our clients ahead of changing buyer expectations, this win was a perfect fit.
We also saw legacy accounts like Red Hat expand from content marketing accounts in EMEA into regional event-wins in APAC. We ran a multi-city roadshow for Red Hat ASEAN across regional markets like Singapore, Malaysia and Indonesia — and more recently, successfully organised the 3rdand final leg of Oracle OpenWorld in Singapore for over 7,000 attendees.
But that wasn't all. We bypassed the great firewall with mammoth account wins in China – a testament to our understanding of the global B2B market and how we're able to successfully help Chinese tech brands launch internationally and expand their brand presence.
We're not about the fluff, just real marketing stuff
There's nothing more challenging than building a successful omnichannel campaign driven by audience insights. So we decided to share our experience (and gain knowledge in the process) by hosting the B2B 360, our inaugural marketing summit. We brought like-minded leaders, innovators and marketing practitioners in Singapore together to discuss the latest in the APAC B2B landscape and share insights on how data and intelligence can be leveraged to give marketers a 360 marketing strategy to move forward, confidently.
First ever to be hosted by an agency, this was the perfect opportunity to share our "no-BS" perspective in B2B.
People + culture = fool proof, award-winning strategy
But all that would not have been possible without a group of very special talents. I can't say this enough: nothing defines MOI as a brand and what it stands for better than our people. Truly, our team's drive for excellence and passion for creating head-turning work makes my job so much easier.
And just by working with these rock stars, you'll notice that they're constantly questioning, consistently reinventing and always figuring out a new way to turn the heads that count. It's the only way they work.
The secret formula, though?
We operate like a family. We squabble. We argue. We don't always see eye to eye. But no matter what, when push comes to shove, everyone supports one another. From the little things like buying lunch for the team to staying up late and getting the final touches of a proposal just right, these guys always come together regardless of teams and job titles. Outside of work, the team regularly gathers, be it for group work outs or to celebrate the wins in life and work, building a lasting relationship with one another has made work a thousand times easier. Or at the very least, enjoyable.
That being said, the dream team is expanding! *insert shameless recruitment plug*
Attitude and aptitude are what matters most so if you're a brave and passionate individual who relishes challenges in a fast-paced B2B tech environment, we want you.
As the double Gold awards have proven, we've barely scratched the surface of our potential and there's so much more to achieve. It's been a heck of a journey and I'm so humbled to be a tiny part of it all.
Keen to understand how we can be a part of your brand's B2B journey? Let's get in touch.