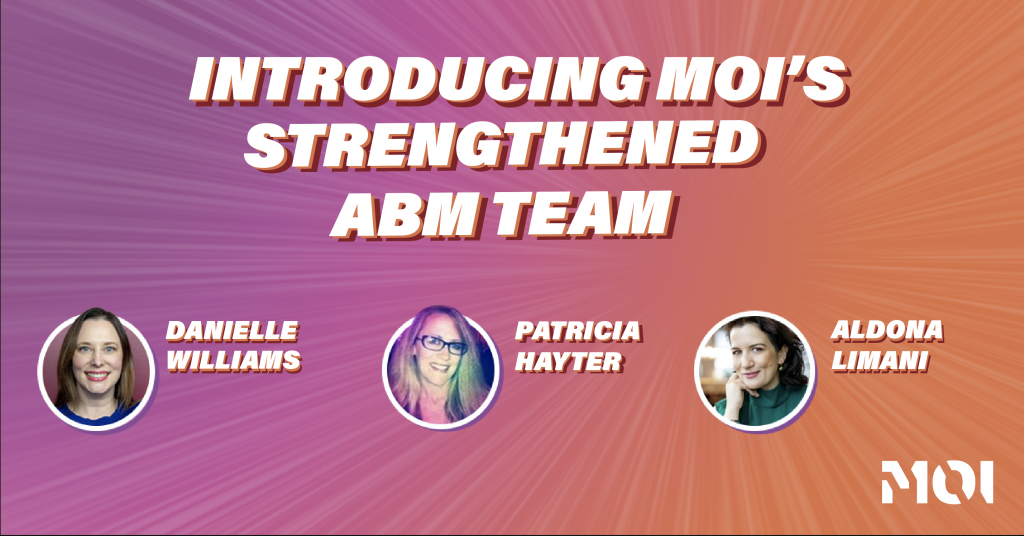 After 18 months of growth that saw its headcount rise from 80 to 150, MOI Global has made a series of new hires to continue its growth trajectory as a leading ABM marketing agency in the global B2B technology space – building a best-in-class team to make MOI Global the destination for ABM around the world.
Barriers need to be smashed
First up, we have Patricia Hayter, whose 15 years of B2B experience has seen her working client-side for brands including Orange Business Services, Cisco, and Informa, as well as agencies such as McDonald Butler and Gilroy.
She says the journey to ABM often hasn't been easy for enterprises, but MOI is equipped to help them on the path to getting closer to customers.
"We can bring together sales and marketing teams who have potentially never really worked with each other before, and this collaboration is crucial to the success of ABM programmes. This can be a revolution, or an evolution – there's no one way of doing it for enterprises – this is why we're building a team with diverse ABM skills and backgrounds.
"As you work through changing certain processes, it is important to be flexible, but also very focused on the end goal, bringing everyone along in a win-win journey.
At the forefront of business strategy
Aldona Limani brings 15 years of experience to MOI, with the last six years having been spent exclusively within B2B technology. She has worked client-side for brands including, Fuse Universal, Jolt, Docebo, and Boxfusion, an Oracle CX Cloud-dedicated consultancy.
"As a marketer," she says, "you're at the forefront of the conversation and the strategies that businesses are deploying."
"In my years of working to transform marketing in leading B2B tech companies, I've discovered that – whether it's creating ABM strategies to expand in new regions, being laser-focused on a specific audience (i.e. the C-suite) or being part of the growth journey of companies going into IPO – if you create hyper-personalised experiences that genuinely solve a business problem, you get results."
This was certainly true of a previous role, where Aldona worked on the global ABM strategy at a high-growth company that went through two IPO rounds.
On the role MOI plays in B2B technology brands' ABM strategies, she says:
"Part of helping our customers deliver great ABM is understanding how they work internally, how sales and marketing teams work, and understanding motivations, not just on a campaign level, but how a business gets behind ABM. What MOI can promise – that other agencies can't – is that we see the work all the way through, all the time."
Scalable, repeatable ABM
Finally, we have Danielle Williams, whose aim is to make ABM campaigns scalable and repeatable for global companies. Danielle brings B2B marketing tech experience with a focus on developing campaigns at a global scale for the likes of Microsoft and its partner eco-system.
"One of the best things about ABM is you have the ability to be creative and develop custom content and experiences. But then, it's important to put a framework in place to and make the process repeatable while keeping the creativity. MOI has a good breadth of knowledge across multiple areas, so when we come together, we can provide clients with the best options for ABM."
These three new faces join MOI's head of ABM, Chris Hare, who arrived at the agency in February 2021. Chris, who has 20 years of marketing experience, is committed to building the best-in-class global ABM agency.
He says that ABM "requires transformation in the way clients think, act, and operate, and they need agency partners to guide and assist them throughout the journey. We want to be that agency for every forward-looking tech enterprise with ABM ambitions."
"MOI is dedicated to growing our Centre of ABM Excellence. We're strengthening partnerships with ABM martech partners, upskilling another 20 of the MOI team to become ABM Certified through Demandbase, and we plan to host industry events and roundtables dedicated to sharing insights learnt from delivering ABM campaigns for our global client base."