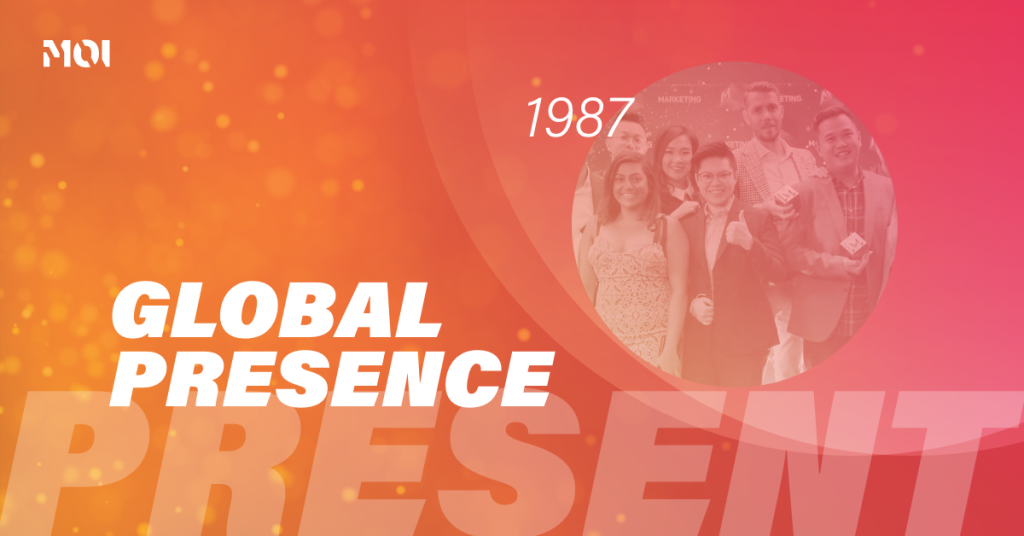 Reading Murray Watson's blog post about the early years of MOI Global, and how he co-founded the agency with Phil Payne in 1987, I couldn't help but think about my own time at the agency.
Throughout my 30 or so years working here, MOI's philosophy has always been the same—to support, encourage, train, guide, inspire, and reward an individual's journey and success in the agency. Staff who are excited about learning more, about growing their skills and knowledge, about being creative in their work, whatever their role, will always succeed at MOI.
And it was always instilled in me to enjoy the company and friendship of those I work with. We're here to do well but we must have fun too! I remember one company weekend break, when we were staying at Amberley Castle Hotel. Murray set me and another young member of staff (Roger Williams) a process test at the top of the tallest tower in the castle! He told us (fortunately with a smile on his face) that the person with the worst score in the test would be pushed off the battlements!
Murray and Phil felt so strongly about the importance of every workday being an enjoyable and fulfilling one, that they even included it in the business plan they shared with their bank manager. The bank manager was impressed, and I can't help but agree. It's one of the reasons I've been here for so long.
But it's not something that just happens organically. Employee engagement is an active and ongoing process. You need to really put work into it, to ensure it happens whether you have two employees or 200. I now spend much of my time putting that structure and the resulting processes in place.
A couple of years ago, we embarked on an ambitious three-year growth plan, with the goal of reaching 250 employees across the globe—and we're well on our way to achieving it.
Maintaining high engagement throughout our fast growth would have been challenging enough under normal circumstances, but it also coincided with the COVID-19 pandemic and the rush to work from home. How can you properly support employees if you can't even see them outside of a video call?
Our journeys of self-discovery
Our first step was to introduce the Personal Development Plan. Everybody in the company was enrolled on a 'Discovery Insights' programme. We all completed a questionnaire that generated a personal profile that takes a deep dive into our strengths, weaknesses, what makes us tick as individuals, and how we work in peer groups and client teams.
We then split into groups for guided sessions where we could learn about each other, to get a better idea of how best to work with people of various personality types.
We then used these new insights about ourselves to help us create our Personal Development Plans, which provide a structure for expressing our personal and professional goals, visions and resulting commitments. They're continuously evolving documents that change as we develop, and they form the basis of ongoing, personalised development plans.
Is blended working the future?
It wasn't long into the first COVID lockdown that we realised remote working was going nowhere. We have the technology to make it work, and it provides increased flexibility for everyone.
Blended working, where employees use a mix of home- and office-based work, won't work the same for everyone. But that's the beauty of it—it doesn't have to. It provides people with the flexibility to do what works best for them, as I've previously written about.
Employee wellbeing
Something else that became apparent very quickly during the COVID lockdowns was that supporting the wellbeing of employees is crucial for any business.
We've introduced several wellbeing initiatives over the past couple of years:
Our Time to Move challenges sees everyone record how many minutes they do of a particular exercise. This then gets converted into 'steps', which all get added to a company total—our aim is to collectively walk all the way around the world.
Our Making Heroes programme gives us the opportunity to nominate our colleagues to recognise and celebrate all our achievements, no matter how big or small.
We've set up our Culture Club to empower people across the agency to become engaged in specific wellness and wellbeing projects that support mental and physical health. We want employees to have a sense of belonging and purpose, which adds to the cultural impact and social interaction across the agency.
MOI would be nothing without its talented people. We're actively and aggressively recruiting the best industry talent across our global offices, and aim to provide them with an elite onboarding experience to ensure they settle into MOI life as quickly and efficiently as possible.
And we're helping to nurture new talent too. One of my proudest achievements at MOI has been the founding of the MOI Academy. It's our platform for giving new marketing talent a foot in the door, to set them up to be the marketing leaders of the future.
I'll leave talking about MOI's future to Matthew Stevens, who'll be concluding this three-part blog series—all I'll say is, going by MOI's past, and how things are going today, there'll be a lot to look forward to in this agency's future.