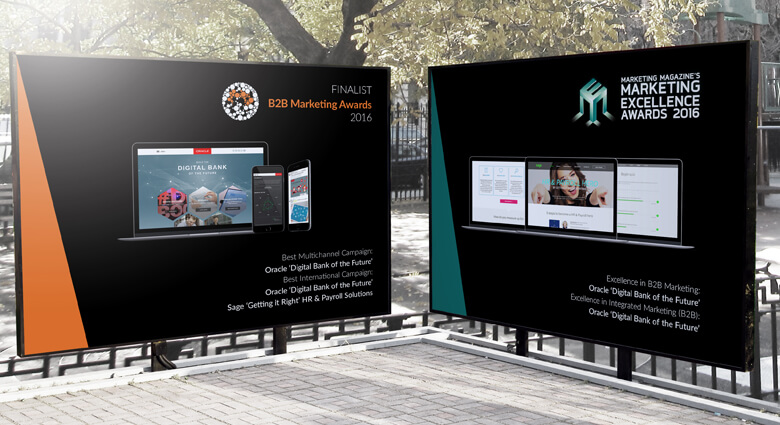 I'm delighted to say that MOI has been shortlisted for five industry awards across the UK and Singapore for two campaigns, including multichannel and international campaigns in B2B. These are prestigious awards, so of course I'd be thrilled with this in any situation, but I'm especially pleased because it confirms that our work to make significant changes to the agency over the last couple of years was well worth it.
Our ability to adopt and capitalise on emerging trends in buyer behaviour has contributed greatly to these nominations, with social influencer marketing being integral to the success in both campaigns. Along with our shortlisting across both the UK and Singapore markets for such high profile international campaigns, it truly underpins our credentials as a global player in the B2B agency landscape.
Our award nominations:
B2B Marketing Awards 2016:
Best Multichannel Campaign: 'Digital Bank of the Future' for Oracle
Best International Campaign: 'Getting It Right' for Sage HR and Payroll Solutions
Best International Campaign: 'Digital Bank of the Future' for Oracle
Marketing Magazine's Marketing Excellence Awards 2016:
Excellence in B2B Marketing: 'Digital Bank of the Future' for Oracle
Excellence in Integrated Marketing (B2B): 'Digital Bank of the Future' for Oracle
Why we've been nominated: our multichannel, international campaigns
'Digital Bank of the Future' campaign for Oracle
Oracle needed to improve its visibility and credibility within the digital banking space to compete with new competition. MOI's response to the challenge was a content led campaign called the 'Digital Bank of the Future'. It included two core research pieces, a benchmarking tool, a multichannel distribution and nurturing strategy, offline boot camps, and an influencer programme that created a community of leading thinkers in the global banking space.
The 'Digital Bank of the Future' campaign generated a pipeline of tens of millions of dollars for Oracle.
'Getting It Right' campaign for Sage HR and Payroll Solutions
Sage was mainly known for its accounting software, but they wanted to raise awareness levels of its HR and Payroll products.
The 'Getting It Right' campaign used emotion-based messaging, which is uncommon for a B2B audience. More recently we launched the Big HR & Payroll Quiz, which helps the audience create their own HR & Payroll persona to share with their network. We successfully adapted and translated it across eight countries and four languages, solving distinct problems that required a deep understanding of each audience.
Next stop: 2018 world domination
Whilst this awards year has already been successful in the eyes of our board, we will seek recognition across all three key markets for the agency next year. With some extremely successful campaigns already running in the States, I'm confident we can bag a clean sweep!
Sharing ideas in disruptive B2B
As MD of MOI Global I'm always open to sharing ideas about being disruptive in B2B – that's why I founded Disrupt Marketing Leaders Forum – so get in touch to see how MOI and I can help keep your brand ahead in our digital world.
You can see what I'm up to on Twitter @AgencyMatt.