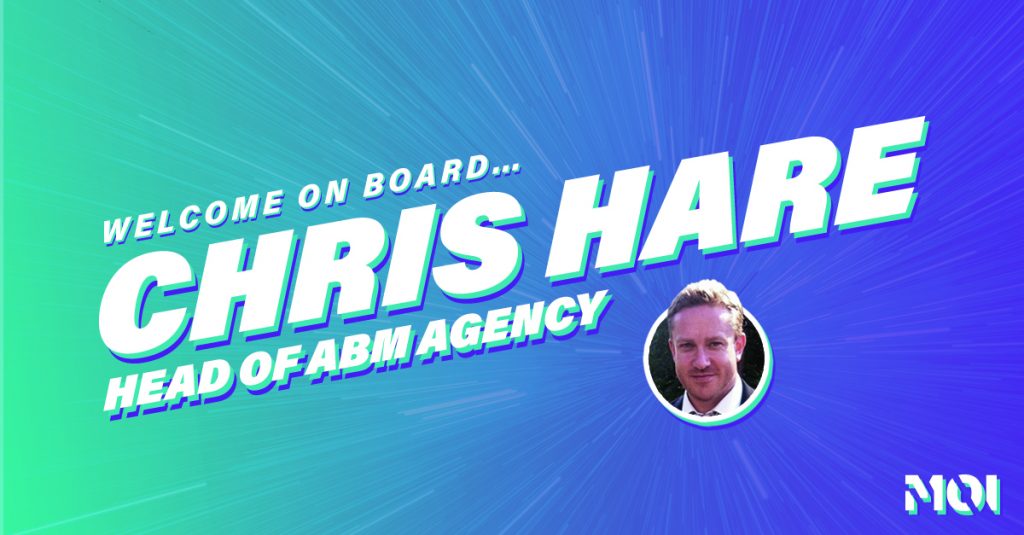 2020 was a remarkably fruitful year for MOI Global—and a major hire in January 2021 sets the stage for a year of even more explosive growth and aspiration.
Throughout the pandemic, the award-winning marketing and creative agency didn't just pursue a dynamic leadership restructure. They also acquired specialist ABM agency ALIAS Partners, forming M|Alias, 'the first truly global centre of excellence for account-based experience', according to MOI MD Matthew Stevens.
And there was no foot on the brake for the new year. MOI have started 2021 with a bang, and are delighted to have brought in leading B2B and ABM specialist Chris Hare as Head of ABM Agency.
Over 20 years of experience
Chris has made a name for himself as a leading voice in B2B marketing and innovation, and in recent years has championed and delivered successful ABM. Chris was a long-standing member of the global leadership team at Gyro, and more recently excelled in managing partner roles at OgilvyOne, Wunderman, and Gilroy. Along the way he has worked for most of the biggest tech brands around, including Oracle, IBM, BT, and Orange.
Hitting the ground running
As head of MOI's ABM Agency, Chris will fuse ABM thinking into MOI's wealth of disciplines and regions. He'll be 'Responsible for maturing our capabilities to ensure we're a global leader in ABM, and working with key clients to ensure ABM success,' said Matthew Stevens.
In articulating his vision, Chris says:
Key to our clients will be building high-quality centres of excellence, within both their own organisations and their partner ecosystem. This requires transformation in the way clients think, act, and operate, and they need agency partners to guide and assist them throughout the journey. We want to be that agency for every forward-looking tech enterprise with ABM ambitions.
Chris wants to empower MOI to scale for a greater diversity of clients and needs:
More and more clients are coming through the ABM door. It's become one of their key strategic imperatives—so it must be MOI's too. Our practice must deliver and excel on these needs, as we build a best-in-class centre of excellence accessible across our entire network.
A brand-new chapter in MOI's 30-year history
MOI are very excited at the news of Chris's hire. According to MOI MD Matthew Stevens,
Chris brings experience of ABM from many different agencies and global clients, which demonstrates our commitment to building a best-in-class global ABM agency.
And the feeling's mutual. 'I've been aware of MOI for a number of years,' says Chris.
They've never been far off my radar, and I've been consistently impressed with their ambition, expertise, and growth. MOI's passion for shaping the very best agency to do the very best work is inspiring. It's been a long time since I've seen that level of aspiration. What's more, MOI understand that you can't build a leading B2B agency without investment in specialised centres of excellence—like the one we're building in ABM.
Chris is ready to turn the heads that count in B2B—and his vision for ABM is set to inspire fresher, more inspiring marketing across the agency. Because after all, as Matthew Stevens puts it, Chris has 'The leadership to ensure MOI are considered an innovator in the ABM space.' Chris himself envisages MOI becoming no less than the go-to agency for ABM—and he won't be satisfied until that vision comes to fruition.
MOI Global transforms relationships between customers and B2B technology brands, with head-turning marketing and advertising for the likes of Facebook, Oracle, ServiceNow, Amazon Web Services, DXC Technology, and Truata.