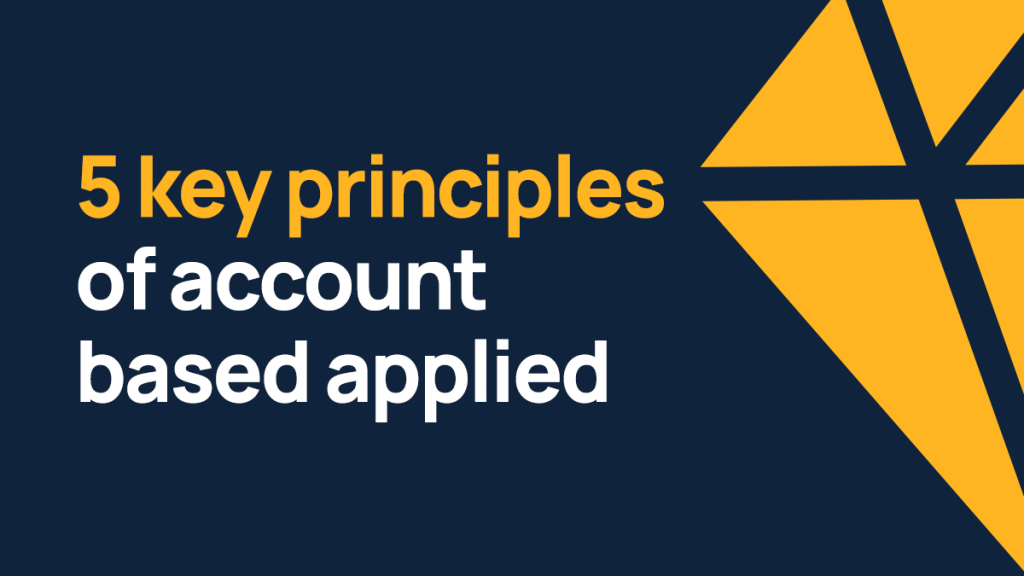 Right now, making the most of your marketing spend will be top of your agenda—we're in the midst of an economic slump, after all. There's never been a better time to eliminate unnecessary marketing activity, and be laser focussed. But how can you do more with less and still deliver results?
If you want to be more relevant and empathetic to your customers, cut out wasted marketing spend, and collaboratively solve your business challenges, you need to focus your efforts on account-based marketing (ABM). Research from MarketingProfs suggests that companies with an aligned account-based strategy could see their marketing revenue skyrocket by up to 208%.
ABM is taking over. And soon, all B2B marketing will be viewed through an account-based lens. Seeing ABM in isolation only reinforces the silos it's meant to break down. Many pure-play ABM agencies aren't set up to deliver long-term success—that's why lots of ABM programs don't achieve desired results.
So we're challenging B2B to change that. By introducing, Account-Based Applied—the new go-to-market status quo.
At MOI, we believe that applying account-based principles to every business interaction is the future for growth and revenue.

But what makes Account-Based Applied work? It's down to five key principles:
1. Working together works
Embracing and integrating ABM tactics begins by aligning your marketing, strategy, and sales efforts, where strategy and data inform campaign messaging. It requires a cultural shift—one where top-level endorsement drives integration across teams. But this cross-departmental integration is worth it. Joint research from Marketo and Reachforce found it pays to work together—and businesses are 67% better at closing deals when sales and marketing align. With account-based applied, you'll see deeper collaboration and clearer understanding among your teams of strategy, marketing, and creative processes.
2. Doing smarter business

By building programs driven by insights, you'll make smarter decisions across your marketing. With an account-based approach, you'll uncover a comprehensive understanding of how your content performs, what intent your prospects are showing, which competitors they are looking at, and what works for your audience. Without one, you could waste up to 50% of sales time on unproductive prospecting. While it may take some time to get up and running, an account-based approach is much smarter in the long run.
3. Getting creative with data
You can inject creativity and craft into every step—from research to activation.
Creatively using data is the key to delivering long-term gains across account-based campaigns. Everything from how you choose which target accounts to focus on to delivering campaign assets requires a bespoke approach—driven and optimized by insights into your own audience.
4. Giving people what they want
Behind every B2B brand are people. And they want to be spoken to on a human level so they can find solutions to their biggest problems. Beyond that, people want to be understood. More and more, B2B buyers want to be engaged by brands, using B2C tactics―with personalized content and experiences. 77% of people would recommend, buy from, or even pay more when brands offer them personalized experiences. And that's the core sentiment of ABM. By targeting key accounts with personalized messaging that resonates with them as an individual, you motivate them to reengage—or even move further down the funnel.
By zeroing in on specific personas (and their challenges), you'll not only strengthen key relationships, but you'll also focus your time, energy, and marketing spend—avoiding a wasteful "spray and pray" approach. You'll do more than spread awareness—using ABM principles, you'll focus instead on building credibility, driving demand, and strengthening relationships. Individualising your audience through content, comms, and experiences allows for purpose-built campaigns that last.
5. Choosing sanity over vanity
ABM principles allow you to create scalable, measurable impact. By focusing your messaging and target account list, you're going to see incremental, steady growth and transformation, regardless of your ABM maturity. You'll see realistic long-term gains by forgoing vanity metrics.
With account-based applied, your campaigns are always on—tracking, learning, and optimizing as you go, to improve performance.
We practice what we preach
At MOI, we've taken account-based applied a step further with our Intelligence Unit. This new strategic arm gathers data through a variety of services—social listening, target ABM account dossiers, account list prioritization, bespoke audience surveys, and target contact personality insights, to name a few—to inform strategy and develop messaging in a creative way. We take the knowledge you already have to formulate the best marketing approach to use.
On top of this, we use our Turning Heads™ methodology to understand what we know, talk about what we think, and formulate big ideas based on the insights we find—keeping different stakeholders within your business informed and connected to leadership and your organization's overall vision.
Answer these questions and discover how ABM applies to your business

If you're thinking about ABM for your organisation, MOI can help you identify a bespoke solution. Fill out the form and answer these 5 questions. We'll review your answers, run an ABM diagnosis and send you an email with some fresh perspectives to create a winning ABM strategy.
Schedule an exploratory chat with Matthew Stevens
If you want to know more about ABM and how it applies, specifically to your organisation, you can get in touch with me. I'd welcome the chance to get to know you, identify your business challenges, and offer your team some fresh, new perspectives.