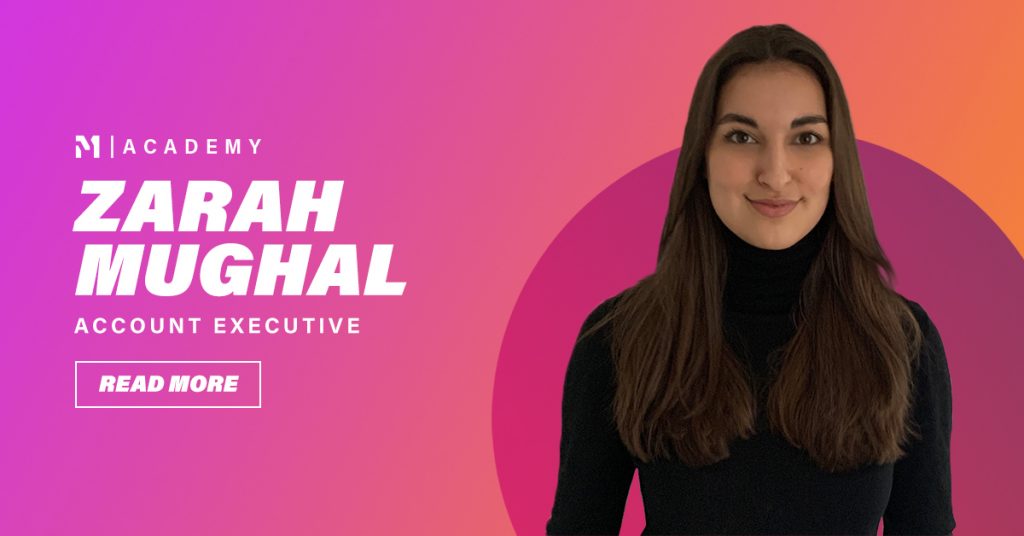 Hi, I'm Zarah. I joined MOI in August 2020 after a series of exciting Zoom interviews with the MOI team. Up until this point, my work experience, after graduating with a degree in Media & Communication, had consisted of journalism in global news, and social media/marketing within film and digital production.
But MOI's global presence and strong vision for innovation in B2B technology marketing had me intrigued. And the MOI Academy programme encourages and supports career progression, which is exactly what I was looking for. I couldn't wait to get involved, and not even a pandemic could stop me!
I was initially assigned to support a specially selected team on a new, fast-paced but complex project for a global client. The ask: a two-week virtual event for 3,000 attendees, across multiple time zones, including live content. This was no regular B2B event, but rather a high-budget global broadcast. My responsibilities included liaising with production studios around the world, from North America to Asia to Australia, and managing fulfilment with brands, such as Nike, for event gifting.
I've now joined a new team within MOI as Account Executive for a global software company. I'm helping to manage multiple campaigns while gaining extensive knowledge about client management and B2B within a global market. The attention to detail and effort my team puts into everything is inspiring me to work at my best to provide clients with a great service.
We've all been challenged during these extraordinary times. We've all had to adapt rapidly and learn about our own resilience. But reflecting on my first six months at MOI, I've felt a great sense of teamwork and support, despite most of it being virtual and remote working.
I'm looking forward to upcoming campaigns that encourage debate and conversation on how the business world is changing now more than ever, as we approach a new way of thinking and working in 2021.