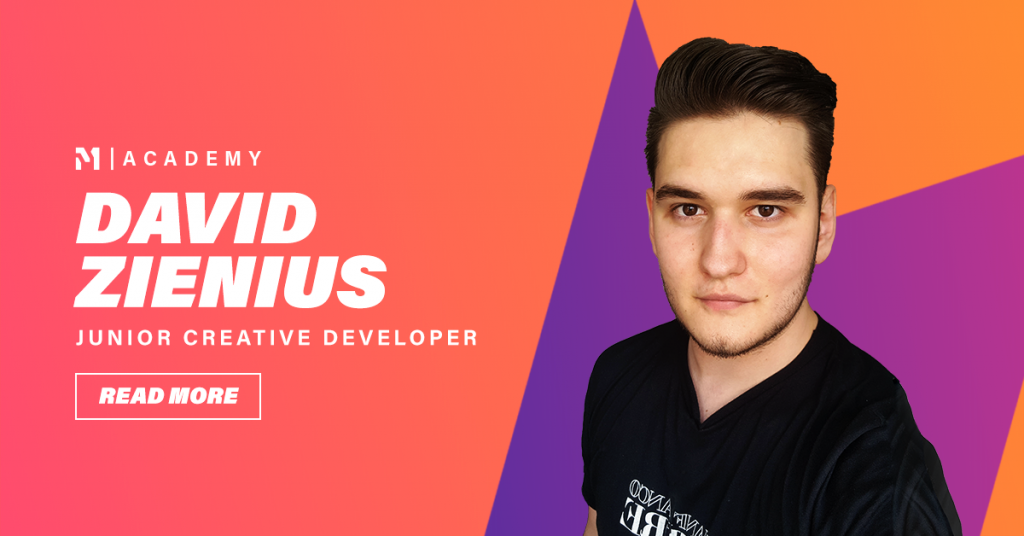 Hi, I'm the Junior Creative Developer at MOI Global—but you can call me David.
I've worked in B2B agencies for two years; the last nine months of which have been with MOI.
Every member of the MOI Academy has a story to tell, and here's mine.
It starts a couple of years ago as a criminology student at university.
Although it was a fascinating subject, I felt something was missing. The same something that had been missing throughout my A-Levels, while I studied law, business, and psychology.
What was missing? Passion for my subject.
I'm a geek at heart. A tech-savvy gamer who just loves computers.
And after one year, I decided to completely change my career path and aim for something else, something I was good at, and passionate about – developing for the web.
After stepping out of Manchester Metropolitan University with a degree in web development my first thought was, "Right, what do I do now?"
Soon after, calls started coming in from recruiters, keen to send people for interviews, so long as their degree vaguely related to the job. Luckily, I didn't have to deal with that for too long, as I found a really attractive opportunity at a B2B agency called Alias Partners.
A couple of interviews later, I was all set for a career in B2B marketing.
For over a year, I worked with a very talented manager who showed me the ropes and taught me more than university ever could.
I had a chance to learn new coding libraries (told you I'm a geek), work with a bunch of different clients, and gain enterprise-level software experience. I felt like this set me up for a successful future as a web developer.
During the first half of 2020, Alias joined forces with MOI Global, which has brought a completely new set of experiences. MOI is a fantastic agency with incredibly talented people in every department.
The award-winning creative work is proof.
It's an agency that truly brings out the best in people, and wants you to succeed.
Enter, the MOI Academy
The Academy is a social hub within the agency, made up of young talent who are learning new skills and sharpening their tools alongside seniors, as we work on exciting side projects.
These projects aim to bring everyone together, identify our skills, put them to good use, and help us understand our colleagues' roles.
Understanding other's roles is often overlooked in the corporate world, but this small detail is helping me become more efficient and empathetic, resulting in higher-quality results.
Thanks to the Academy and the incredible people here, I get to build websites, guides, microsites, and landing pages that I am so proud of. But that's just for starters, there's so much more to learn, and do.
For graduates or talented individuals that want to prove themselves – M|Academy is the perfect place to start your career.