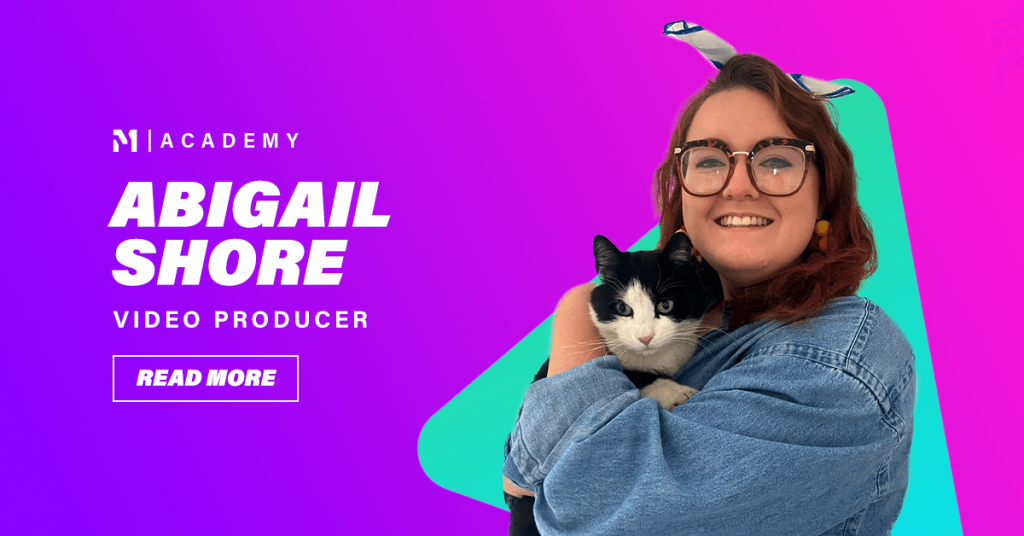 Abigail Shore- formal name is 'Junior Producer', but we all know she does so much more.
The jewel of the MOI video department, for two years she's produced live shoots from San Francisco to Copenhagen, animated and edited countless videos, and managed to keep a bunch of rowdy creatives, known as The Studio, in line.
Graduating with a degree in Drama and Creative Writing from Royal Holloway, a smile on her face, and a determined twinkle in her eye, she stepped straight in to… bartending. But this wouldn't stop her. With a passion for editing and comedy, she looked for any opportunity to stretch her creative muscles like a 2-hour personal training session at the gym*.
MOI Global was a glistening beacon of opportunity. Being able to work with creatives all around the world on amazing projects, and having a team that looked so much fun, she sent off her application. After two nervous interviews, the call came that she had got the job. Little did her new manager know that she was doing the robot dance in joy whilst confirming her start date.
On her first week alone, she was calling up London studios to confirm dates and helping to choose talent for a shoot in the coming weeks. It was all hands on deck, and Abigail rolled up her sleeves.
Although the median age at MOI is fairly low, Abigail was one of the youngest when starting. At the tender age of 22 she was delighted to hear of a 'conclave' of her similarly aged peers (that's £27,000 of creative writing description coming out). Much like the beginning of a superhero movie – the Academy was formed! With support from the highest and most knowledgeable in the company, the academy were given projects to promote branding, social media interaction, and most importantly, team work.
Fingers crossed the future is bright for Abigail. Building a list of priceless contacts, nay, friends, and learning ever more complicated animation she will hopefully work hard enough to no longer be a junior, but will always be a member of the Academy at heart.
*NB. Abigail Shore has never, and will never, participate in a 2-hour personal training gym session. She does, however, enjoy 'Just Dance 2' on the Wii, claiming this to be exercise. And if you don't think this is exercise, she kindly invites you to fight her.